I first heard about this product about a month ago on one of my favorite YouTube beauty guru's
meganheartsmakeup
video. I naturally have dirty blonde that keeps fading darker and darker as I have gotten older. Since end of middle school/beginning of high school, I have been getting highlights done about 3 or 4 times a year. Unfortunately, as any of you blondes are well aware of, highlights are expensive! Especially for me because I have long hair, thick hair, and a LOT of layers of hair. While I always straighten my hair and you wouldn't think that it's thick at all, every single hair dresser comments on how much hair I have. For a partial it's about 60 foils...so just imagine a full highlight! I have always liked John Frieda products but have never found a shampoo, conditioner, or spray that I thought actually made my hair lighter or helped to maintain my highlights.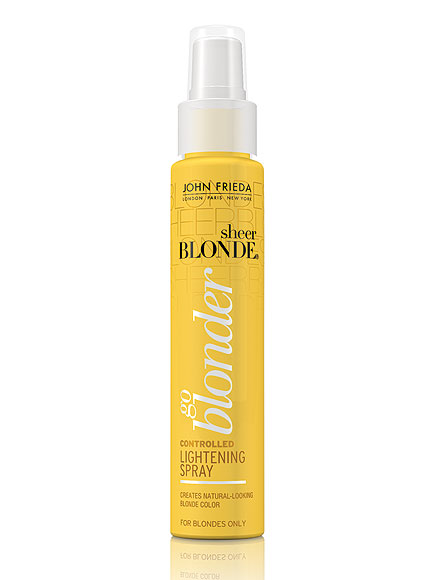 However, this product WORKS! Initially, I decided to buy it because the concept makes sense. Living in South Florida my whole life, girls used to always put lemon juice in their hair when they went to the beach or were laying out by the pool. The concept? Heat. You use this spray on towel-dried damp hair after showering and then blow dry. The more heat, the better. Plus, it's protecting your hair from the heat with a thermo-protectant.
As the product claims,
"Versatile, patent-pending formula with citrus and chamomile works with styling heat to gradually lighten and brighten for a natural-looking, blonder blonde. Contains thermo-protectant. Visibly lightens in 3-5 uses."
I truly do believe my hair has gotten LIGHTER since using this product. I thought I was desperate for highlights but am able to put it off while using this product. I'm loving all of these products (like the
Garnier BB Cream
) that do so many things at once, in one product. Saves time & money, and let's be honest, who doesn't want that in their life?
Price: $10 (on sale now at CVS for $8
here
)
Smell: Not strong, but nice.
Where to buy: Any drugstores or Ulta
Packaging: Standard spray bottle, no complaints
It doesn't dry out my hair or make it greasy. After towel-drying my hair, I spray this at my roots on my scalp and all over my hair, blow dry, then flat iron. Voila! Wonderful product and I recommend for all you girls with dirty blonde hair.
Let me know if you've tried this product and what you thought!
Xo,
Ariana