I was never someone who wore lipstick until this past Fall when I fell in love with the look of berry lips. Lipstick always scared me if I'm honest. The bold, opaque color, the fear of it smearing on my face or getting on my teeth. Sounds silly now, but we've all been there.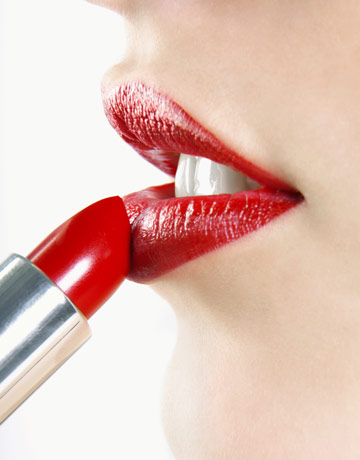 While I still have a small lipstick collection, I have found ways that I like to make the most out of my lipstick, which you can read about after the jump!
Step 1- Exfoliate.
I use
LUSH Sweet Lips
lip scrub, but there are other great options too such as the
Fresh Sugar Lip Polish
or a DIY lip scrub using an abrasive, edible substance like brown sugar or sea salt that you can find in your kitchen.
(A quick and optional step is to put concealer around your mouth to get rid of any redness along your lip line. Don't put it on your lips though, as it will likely lead to drying.)
Step 2- Moisturize.
After any good exfoliation, moisturizing is crucial to protect the raw skin from drying out and becoming irritated. I love to use the
Rosebud Salve
in a tube (the Rosebud strawberry in a tin is yummy too), but any lip conditioner/treatment will work. Let the lip moisture soak in and work on your eye makeup before continuing on to the next step.
Step 3- Prime.
Just like anything else, using a primer will ensure the lasting power. Too Faced has a '
Lip Insurance Lip Primer
,' which you can find at Sephora. I don't swear by this product just yet, but I love the concept and feel of it on my bare lips.
Step 4- Lip Liner.
No need to buy an expensive lip liner unless you want to. Drugstore lip liners work just the same! I like the retractable lip liners better and I find them to be less drying. I have a few from
NYX
and have heard rave reviews about Jordana lip liners (found at Walgreens) too. Again, any brand will work for this simple step. What is important is the color of the lip liner. For an every day, natural lip look that you just want definition for, use a nude pink shade close to your natural lip color. However, for a darker color, try to match the lip liner as best you can to the lipstick. I like to not only outline my lips, but color them in. I definitely find that it keeps my lipstick on longer and the color brighter.
Step 5- Lipstick. Utilize the shape of the top of a lipstick to your advantage. It's easier to just do 4 simple swipes- 2 (right to left, then left to right) on the bottom lip, then using the tip, rounding the left side and right side. You want to keep your cupid's bow visible and defined, which is why you wouldn't do the two simple swipes on your top lip. If you want more color pay off, repeat these steps.
Step 6- Avoid getting it on your teeth! This is a weird tip to share, but I'm telling you...it works. I did not come up with it, but rather have seen it on various YouTube beauty vlogger channels in watching their lipstick application process. Here it goes...If you stick your finger in your mouth, close your lips and pull your finger out, any excess lipstick that was too far into your top or bottom lip will come off on your finger. Obviously, wash your hands first and don't do this in public! Blotting with a tissue just doesn't work magic like this silly trick, and you will not get any on your teeth ever (I've conquered my fear).
Step 6 (OPTIONAL)- Lip gloss. A lot of the time I don't use a lip gloss over lipstick. Most of my lipsticks are actually quite moisturizing with a good sheen that lip gloss isn't necessary. If anything, I might just put a little in the middle of my lips and smack them together once. Definitely use a lip gloss that is the same or similar shade to the lipstick so you don't lose the color of the lipstick (because then, what's the point?). I usually opt for a lighter color lip gloss.
Step 7 (OPTIONAL)- Highlight your cupids bow.
If you're really going all out with this lipstick look, highlighting your cupid's bow adds a nice touch. Simply use your finger and dab a tiny bit of highlighter or light, shimmery champagne-toned color (
I used MAC Soft & Gentle
) above your top lip where there is the little dip. It will accentuate your lips to make them appear larger and more defined.
I hope this helped any of you who haven't tried lipstick yet or haven't been able to master your look!
Would you like to see more posts like this? Or what about what my favorite lipsticks/colors are? Let me know in a comment below :)
xx, Ariana